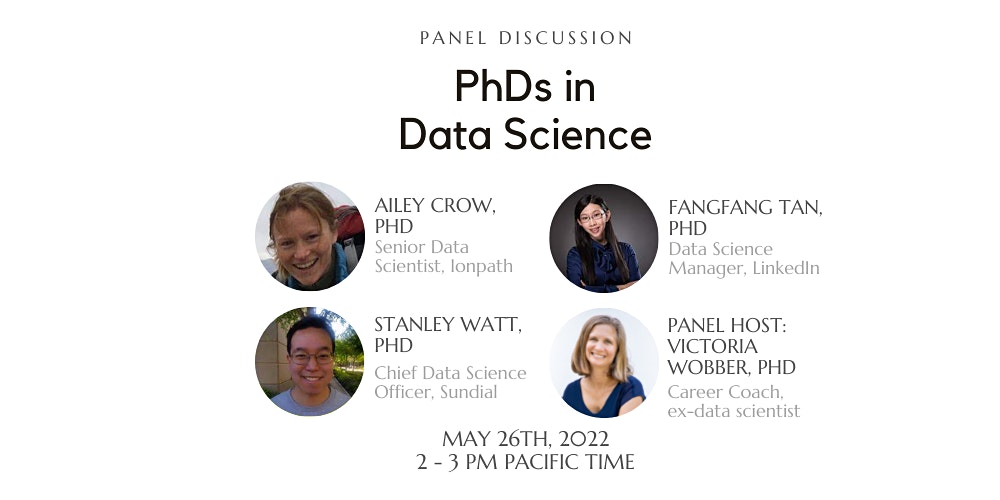 Technology Webinar | PhDs in Data Science: Panel Discussion
OR
Victoria Wobber Coaching and Consulting
Technology Expert
Follow
About this Webinar
This is a FREE WEBINAR on Technology
Schedule : May 27th 2022 Time: 3:30 am IST
Is this a LIVE WEBINAR : yes, this will be a live webinar
Is this an ONLINE WEBINAR : yes, you can attend this webinar online by clicking on the Button "Go To Event"
About the Speakers :
Victoria Wobber Coaching and Consulting
About the Event :
Are you a PhD hoping to land a role in data science? Have you recently started a new role in data science and feel like you're drinking from a firehose?
Join this panel discussion to hear insights from PhDs working in data science roles. You'll learn how they made the leap from academia into data science, what their day-to-day is like, and the value prop that they have found from their doctoral training.
Panelists include:
Ailey Crow, who completed her PhD in Biophysics at UC Berkeley. She is currently a Senior Data Scientist at Ionpath.
Fangfang Tan, who completed her PhD in Economics at Tilburg University. She is currently a Data Science Manager at LinkedIn.
Stanley Watt, who completed his PhD in Economics at Harvard. He is currently the Chief Data Science Officer at Sundial.
Your host:
Tory Wobber, who completed her PhD in Human Evolutionary Biology at Harvard and then spent 7 years in the Tech industry at Facebook and Google. She currently runs her own business and helps social science PhDs land industry roles (https://www.victoriawobber.com/).