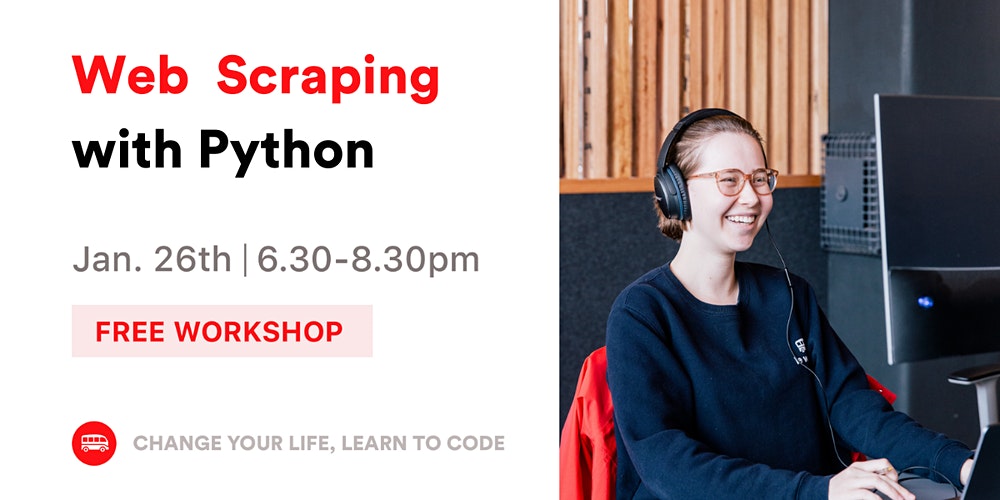 Technology Webinar | Web Scraping with Python
26 Jan 2022
1:00 PM
2 hours
OR
Le Wagon
Immersive Coding Bootcamp
Follow
About this Webinar
This is a FREE WEBINAR on Technology
Schedule : Jan 26th 2022 Time: 1:00 pm IST
Is this a LIVE WEBINAR : yes, this will be a live webinar
Is this an ONLINE WEBINAR : yes, you can attend this webinar online by clicking on the Button "Go To Event"
About the Speakers :
Le Wagon
About the Event :
A lot of tech companies rely on Web scraping to fill their databases with publicly accessible information: price comparators, travel aggregators. Scraping is widely used in marketing for market research or customer feedback analysis 📈
Some experience with Python will come in handy, but any programming language concept knowledge will be enough to navigate the workshop. It's not really about the syntax, it's more about the process 💪
In this workshop, we use Python, the Beautiful Soup scraping library, and an interactive Jupyter notebook to show you the basics of web scraping in a step-by-step tutorial. You are free to take home the resulting code 🙌
🍽️ Workshop Structure:
👉 Step one: One-hour lecture to understand how to scrape information from the web.
👉 Step two: You will then be onboarded on Le Wagon e-learning platform and access the slides, a sum-up of key notions as well as exercises to keep practicing after the workshop. Our teachers will be here to help 💪
Prerequisite: You will need some basic knowledge in Python/programming as this is a more advanced workshop. Cheatsheet & preparation resources will be sent for people who registered more than 2 days before the starting date 🙌
️For this workshop, you will need:
To install Zoom
To seat in a quiet area
To test your mic and headphones
See you soon!
Le Wagon Team