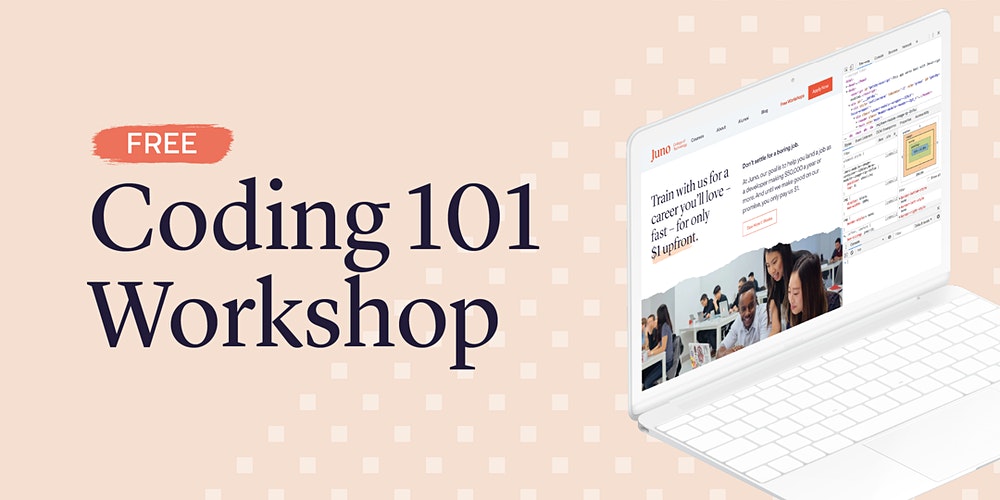 Technology Webinar | Coding 101 Workshop (Live Online)
15 Oct 2021
3:45 AM
2 hours
OR
About this Webinar
This is a FREE WEBINAR on Technology
Schedule : Oct 15th 2021 Time: 3:45 am IST
Is this a LIVE WEBINAR : yes, this will be a live webinar
Is this an ONLINE WEBINAR : yes, you can attend this webinar online by clicking on the Button "Go To Event"
About the Speakers :
Juno
About the Event :
Coding 101 is an introductory online workshop, so we encourage anyone with an interest in learning to code to register. This webinar will be led by the Juno College Team.
During this Live Online webinar you will get to dabble with the basics of HTML & CSS, which are the building blocks of web development, while completing an instructor-led exercise. By the end of the workshop, you will have a mini-project completed with a link for you to share your work with friends and family.
Here's what you need to be prepared for this workshop:
Agenda:
6:15pm - 7:45pm | Intro to HTML & CSS Lesson + Exercises
7:45pm - 8:15pm | Wrap-up and Q&A - Now's the time to ask questions if you're interested in learning more about a career in web development!