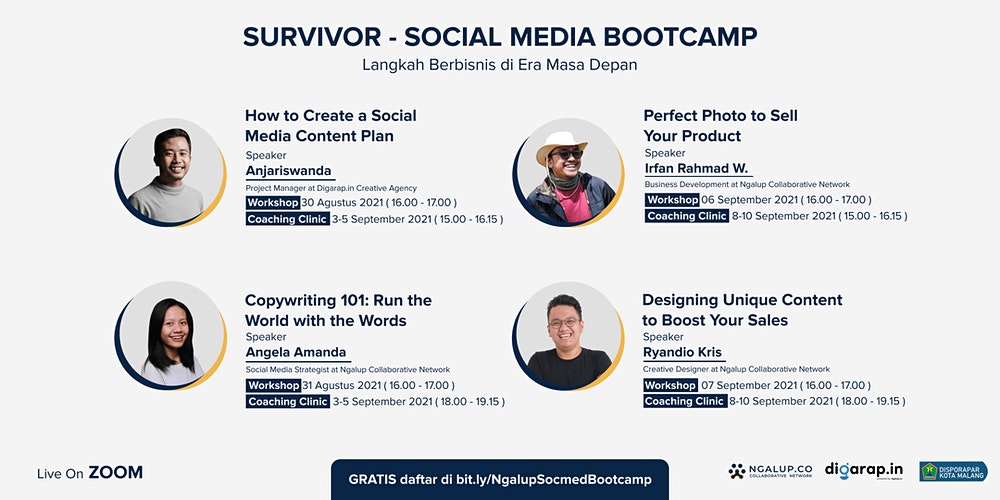 Webinar | Survivor - Social Media Bootcamp
30 Aug 2021
2:30 PM
12 days 3 hours 29 minutes
OR
NGALUP COLLABORATIVE NETWORK
Digital Marketing Expert
Follow
About this Webinar
This is a FREE WEBINAR on
Schedule : Aug 30th 2021 Time: 2:30 pm IST
Is this a LIVE WEBINAR : yes, this will be a live webinar
Is this an ONLINE WEBINAR : yes, you can attend this webinar online by clicking on the Button "Go To Event"
About the Speakers :
NGALUP COLLABORATIVE NETWORK
About the Event :
Produk yang bagus terkadang masih terkalahkan dengan yang terkenal di media sosial. Padahal tidak semua produk yang terlihat menarik, punya value yang lebih unggul. Mengapa demikian?
Media sosial saat ini memaksakan penampakan produk untuk terlihat estetik dan menggiurkan, hal ini menjadi kendala bagi mereka yang belum punya kemampuan untuk mengemas konten sedemikian rupa.
Bagaimana caranya untuk bisa mengikuti trend dan memasarkan produk secara humanis di era digital?
Survivor-Social Media Bootcamp akan memfasilitasimu dengan materi seputar:
Copywriting 101: Run the World with the Words
How to Create a Social Media Content Plan
Perfect Photo to Sell your Product
Designing Unique Content to Boost your Sales
Berkolaborasi dengan Disparpora Kota Malang, GRATIS daftar di bit.ly/NgalupSocmedBootcamp