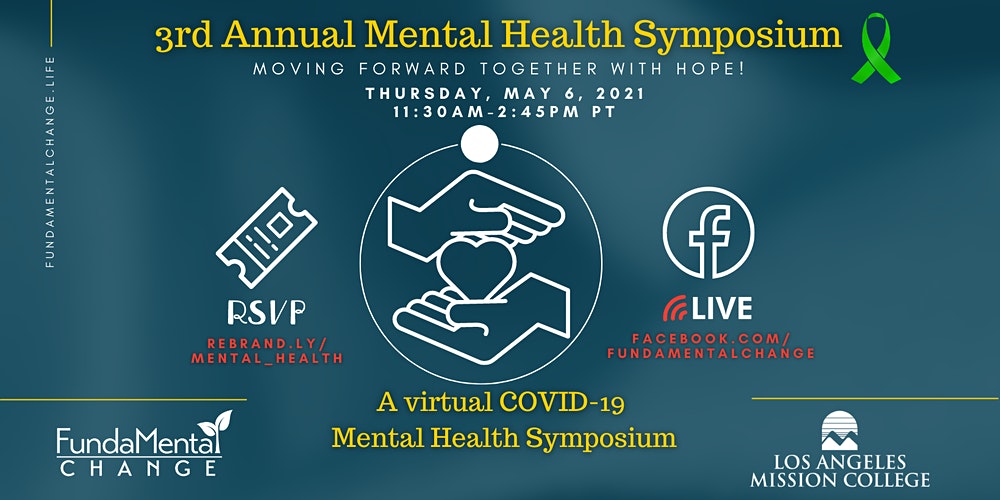 Health Webinar | 3rd Annual Mental Health Symposium
7 May 2021
12:00 AM
3 hours 15 minutes
OR
The Twins PR
Health Expert
Follow
About this Webinar
This is a FREE WEBINAR on Health
Schedule : May 7th 2021 Time: 12:00 am IST
Is this a LIVE WEBINAR : yes, this will be a live webinar
Is this an ONLINE WEBINAR : yes, you can attend this webinar online by clicking on the Button "Go To Event"
About the Speakers :
The Twins PR
About the Event :
Join FundaMental Change and Los Angeles Mission College to celebrate Mental Health Awareness Month at the 3rd Annual Mental Health Symposium community event taking place virtually on Thursday, May 6, 2021 at 11:30 a.m. to 2:45 p.m. PT. The event is free and open to the public.
The program aims to raise awareness, reduce stigma, and fund supportive services for people living with mental illness, as well as improving the lives of people that care for them. Topics will include self-care, death and grief, loneliness and isolation, and a COVID-19 vaccine audience Q&A.
Speakers:
Angela Padilla, Founder & President, FundaMental Change
Alex Padilla, U.S. Senator for California
Dr. Francisco Rodriguez, Chancellor, Los Angeles Community College District
Dr. Monte Perez President, Los Angeles Mission College
Franklin Romero and Daphne Quick-Abdullah, Los Angeles County Department of Mental Health
Dr. Jose Cardenas, Clinical Psychologist, Cardenas Psychological Services
Nicolle Perras, Health Program Analyst, L.A. County Department of Public Health
Dr. Keith Norris, Professor of Medicine, UCLA
*Register and attend the event to receive a complimentary gift card courtesy of DoorDash, our official VIP sponsor. (Disclaimer: Gift cards will be provided for the first 500 participants to register for the event. Must attend event to qualify. Must reside in the United States. Limit one gift code per attendee.)
Request for Accommodation:
We encourage people with disabilities to participate in our events. If you anticipate needing any type of accommodation, or have questions about issues of access to the virtual event, please contact the Office of the Vice President of Student Services at DisabilityAccess@lamission.edu or call 818-364-7766 as soon as possible, but no later than seven business days prior to the event. Thank you.