>
>
Health Webinar | Mental Health, Substance Use, and Wellbeing in Higher Education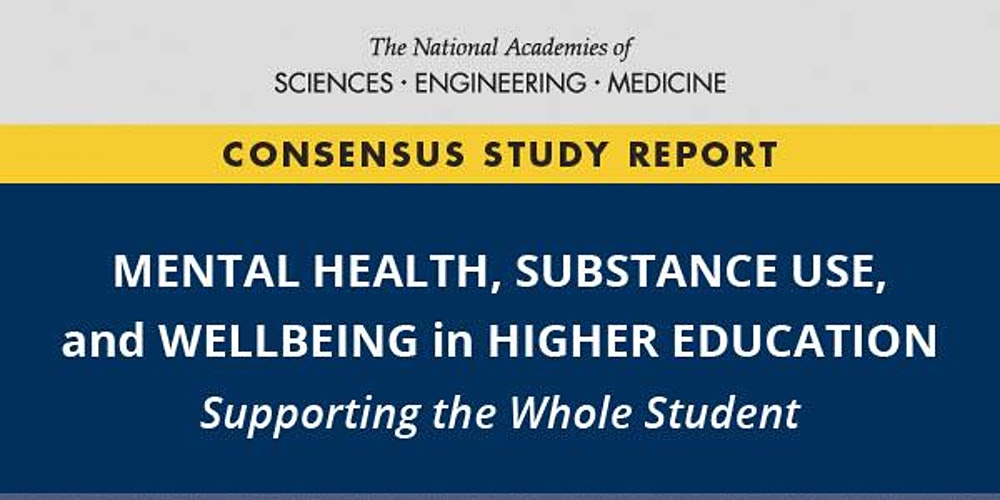 Health Webinar | Mental Health, Substance Use, and Wellbeing in Higher Education
13 Jan 2021
11:30 PM
1 hour 30 minutes
NASEM Board on Higher Education and Workforce (BHEW)
Covid 19 Expert
Follow
About this Webinar
This is a FREE WEBINAR on Health
Schedule : Jan 13th 2021 Time: 11:30 pm IST
Is this a LIVE WEBINAR : yes, this will be a live webinar
Is this an ONLINE WEBINAR : yes, you can attend this webinar online by clicking on the Button "Go To Event"
About the Speakers :
NASEM Board on Higher Education and Workforce (BHEW)
About the Event :
On January 13, 2021, the National Academies of Sciences, Engineering, and Medicine will release the consensus report Mental Health, Substance Use, and Wellbeing in Higher Education: Supporting the Whole Student. The report includes the most current research and reviews how institutions of higher education, including community colleges, provide treatment and support for the mental health and wellbeing of undergraduate and graduate students in all fields of study.
Please join the following members of the Committee on Supporting the Whole Student: Mental Health, Substance Use, and Wellbeing in Higher Education and National Academies Staff on January 13, 2021 at 1PM:
Dr. Alan Leshner (chair), CEO Emeritus of the American Association for the Advancement of Science
Dr. Daniel Eisenberg, Professor of Health Policy and Management, University of California at Los Angeles; Director, Healthy Minds Network
Dr. Raynard Kington, Head of School, Phillips Academy, Andover; President Emeritus, Grinnell College
Dr. Jeanie Tietjen, Director, Institute for Trauma, Adversity, and Resilience in Higher Education; Professor of English, MassBay Community College
The report was sponsored by the Substance Abuse and Mental Health Services Administration, the National Institute of Mental Health, the National Institute on Alcohol Abuse and Alcoholism, and the National Institute of Drug Abuse.
The National Academies of Sciences, Engineering, and Medicine (NASEM) are committed to the principles of diversity, integrity, civility, and respect in all of our activities. We look to you to be a partner in this commitment by helping us to maintain a professional and cordial environment. All forms of discrimination, harassment, and bullying are prohibited in any NASEM activity. This commitment applies to all participants in all settings and locations in which NASEM work and activities are conducted, including committee meetings, workshops, conferences, and other work and social functions where employees, volunteers, sponsors, vendors, or guests are present. By attending this event, you are agreeing to adhere to the aforementioned policy.